As a Mime and movement instructor for over fifteen years, Lorin Eric Salm brings his total of more than twenty-five years experience in Theatrical Mime and theatre to bear. Through workshops, coaching, and consulting, he reveals the world of Mime to people who can benefit from it as artists, enthusiasts, students, and teachers themselves.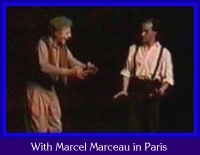 A native of Los Angeles, Lorin moved to Paris, France, where he studied under the world-renowned master of Mime Marcel Marceau. He is a 3-year graduate of Marceau's Ecole Internationale de Mimodrame de Paris (Paris International School of Mimedrama), and has studied with former assistants of the French creator of Corporeal Mime, Etienne Decroux, as well as others including the Polish master Stefan Niedzialkowski.
Lorin's teaching began with students of acting and dance, and grew to include conducting workshops for the world-class performers of Cirque du Soleil. He also applied the principals of his art to teaching character movement concepts to 2-D and 3-D animators, including those at Walt Disney Feature Animation, DreamWorks Animation, and Sony Pictures Imageworks, working with the teams that created the computer-animated features Dinosaur (Disney), Shrek (DreamWorks), and Chicken Little (Disney). He has also taught animation students at California Institute of the Arts and Bridges Institute of Visual Arts.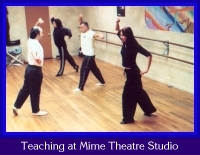 In an effort to build a home base for his teaching, in 2001 Lorin founded Mime Theatre Studio as the only place in Los Angeles to offer year-round Mime classes. The studio has attracted adults of all ages, from students to professionals from a wide variety of fields.
As Lorin is based in Los Angeles, the Hollywood film and television industry calls upon him as a Mime and movement coach, choreographer, consultant, and on-set advisor for feature films, television shows, commercials, and music videos. A professional film and TV actor as well, Lorin often plays roles in the projects on which he works behind-the-scenes.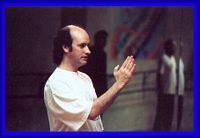 Lorin Eric Salm has become a world resource for the international Mime theatre community by his authorship and administration of The World of Mime Theatre, the acclaimed website that, compared to available online resources, Encyclopedia Britannica's Internet Guide called the "definitive source on mime as a theatrical art." His efforts continue to further international appreciation of Theatrical Mime, and have earned him the recognition of Mime professionals and enthusiasts around the world.
For detailed information on Lorin Eric Salm's Teaching, Coaching, and Consulting services, please see the Teaching/Consulting section.